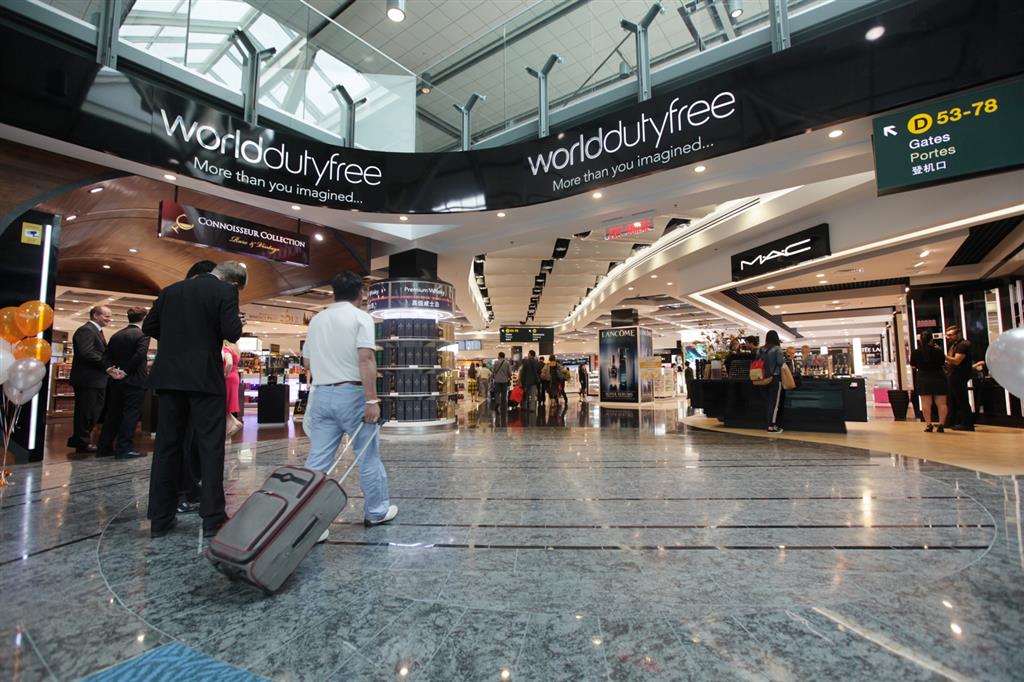 When traveling, opportunities frequently pop-up that prompt us to shop.  One of best opportunities for shopping when traveling are the duty free stores that line the sides of the pathway on your way to your departure gate.  It's really the perfect time to shop—you've got time to kill, you've got no where else to go, there are many shops to choose from, and it's all duty free.
Duty Free At YVR
Over the years, Vancouver International Airport has undergone many renovations and improvements to its facilities, including the variety and quality of stores it has to offer.
If you make your way through security, experience short lines at the check-in and arrive at your gate early, you'll have some time to browse all the shops.  There's a large selection of luxury brands from fragrance and fashion to cosmetics, liquor and souvenirs.  Of these stores, the products that are most popular with travelers are the beauty, liquor and luxury products.  There's something for everyone at Vancouver International's duty free shops.  There's over 1500 square feet of stores to shop at, making it the largest walkthrough store in North America.  For those that like to kick back in luxury, as many of our clients do, there are two exquisite wine bars serving fine British Columbia wines, which also make great souvenirs to take home.  Popular take-home souvenirs from Canada have proven to include: ice wine, maple syrup, smoked salmon and maple cookies.
For travelers flying south of the border, Vancouver Airport has been working with the United States customs to allow passengers to clear customs before embarking on their flight, which allows travelers to purchase a wider range of products priced up to 400 dollars, whereas before policy restrictions limited the sale of items below $25.  This is fantastic for the airport and its travelers, as the airport will be able to bring in many more products and services, allowing a richer duty free shopping experience for travelers.
As a bonus, the stores are open 24/7, 365 days a year.
The duty free shops at YVR and done in partnership with World Duty Free, the Italy-based multinational travel retailer.  They operate in 21 countries with over 500 stores.
Whenever you're in need of a lift from the Vancouver airport, feel free to call KJ Limo's YVR airport limo service.  If you're wanting to take advantage of the duty free shopping at YVR Vancouver International Airport, you'll want to make sure you mention to your limousine driver that you'd like to arrive at the airport early.
Free Outlet Shopping?
Some people aren't aware that airfare can be hundreds of dollars cheaper (per person) by flying out of Bellingham or Seattle instead of Vancouver, not to mention potentially more non-stop flight choices to choose from.  When travelling in a group and saving hundreds of dollars per person, customers of ours will often hire us to chauffeur their group from Vancouver to Seattle while stopping at the factory outlet stores in between so they can do some shopping.  With a group of 8 people saving $300 each, their savings in airfare can easily exceed $2000, which allows them to pay for the limo service down to Seattle plus spending money of a couple hundred dollars per person at the outlets stores.  So, the next time you're in Vancouver and you're flying out with a group, check to see if there are cheaper and better flights flying out of Bellingham or Seattle and you might be able to arrange a free outlet shopping trip.
RESERVE YOUR LIMOUSINE NOW
LIMITED AVAILABILITY