KJ Limousine Services Inc. launches a new website for its ongoing and growing limo services in Greater Vancouver BC. The new website features a clean, modern design, improved performance, redesigned layout for optimal conversion rates and an easy "tap to call" button on mobile devices.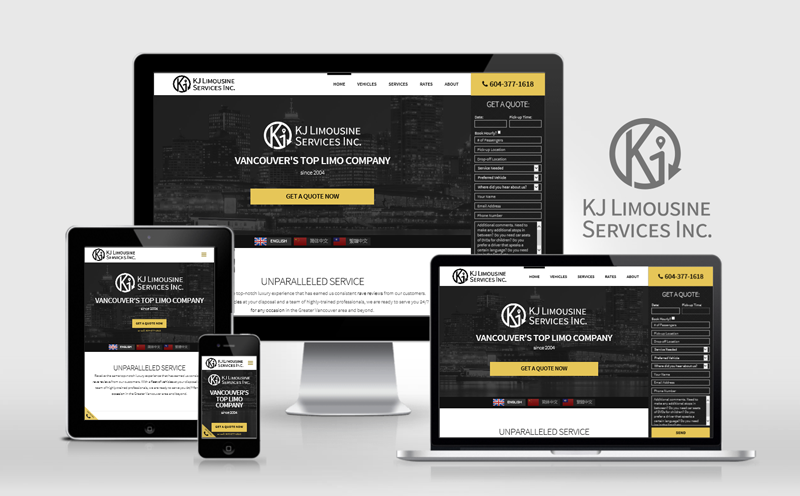 KJ Limousine Services Inc. has launched a brand new website at https://kjlimousine.com to represent its growing chauffeured limousine services, serving a wide variety of occasions in the Greater Vancouver area and as far as Seattle, Washington. Having just acquired a new vehicle to its growing fleet of luxury limousines, KJ Limousine Services Inc.'s new website launch comes at a timely manner to better serve its increasing customer base.
Vancouver, British Columbia has become an increasingly popular world destination for tourists, travellers and a place to conduct business. Tourism alone, in British Columbia, generated $13.9 billion in revenue in 2013 with Vancouver being one of the top tourist destinations and a major contributor to that figure. Visitors to Vancouver fly in from all over the world, requiring ground transportation from Vancouver International Airport (YVR), Bellingham International Airport (BLI) and even Seattle International Airport (SEA).
Despite being in service since 2004, it wasn't until the beginning of 2010 that KJ Limousine Services Inc.'s first website was built. The first website was operational for over 3 years until it was replaced by the second website in the middle of 2013. Finally, the new website which has just been launched replaced the second website which has been active for just under 3 years. Coincidentally, KJ Limousine revised its logo just a month earlier in mid February.
Along with a fresh, clean, modern design, KJ Limousine's new website releases with many new improvements and features over the previous versions. The new website now utilizes a Content Distribution Network (CDN) which serves the website's content to users with high availability and high performance, while also improving security for the website. The increased page loading speed will provide a better user experience and contribute to improved search engine visibility, due to website performance being a key ranking factor by search engines.
The homepage of the website features one-page navigation which allows users to access a wide selection of content easily and quickly without leaving the homepage. Links on the home page go to separate pages with more in depth information about its specific services and vehicles.
The entire website structure has been redesigned to reduce the number of pages with sparse content with the goal of having higher quality content on fewer pages. Again, this strategy aims to increase conversions, improve user experience and aid in search engine visibility.
Efforts were made to make it easier for website visitors to take action, increasing conversions rates on the website. When viewed on devices with larger displays, a limo rental quote form is always present on all pages, fixed to the right-hand sidebar so that visitors can easily fill out the form and submit a quote request. A click-able phone number is always visible regardless of screen size. On larger screens, the phone number is fixed above the quote form in the sidebar. On mobile devices, an attractive "tap to call" button is fixed to the bottom left of the screen. Tapping on that button automatically brings up the phone app with KJ Limousine's phone number already entered in, ready to dial. Scattered throughout the content, eye-catching "calls to action" are placed at appropriate locations making it very easy for visitors to take action.
To see examples of some of the improvements, please visit: https://kjlimousine.com/wedding-limo-vancouver-bc/
With the many improvements this new website launch offers, KJ Limousine in anticipating an improved user experience, increasing conversion rates, better search engine visibility and a more appropriate representation of its brand and services.
For more information about us, please visit https://kjlimousine.com
Contact Info:
Name: Hing Jong
Organization: KJ Limousine Services
Address: 7871 Westminster Highway, Richmond, BC V6X8H3
Phone: (604) 377-1618
RESERVE YOUR LIMOUSINE NOW
LIMITED AVAILABILITY