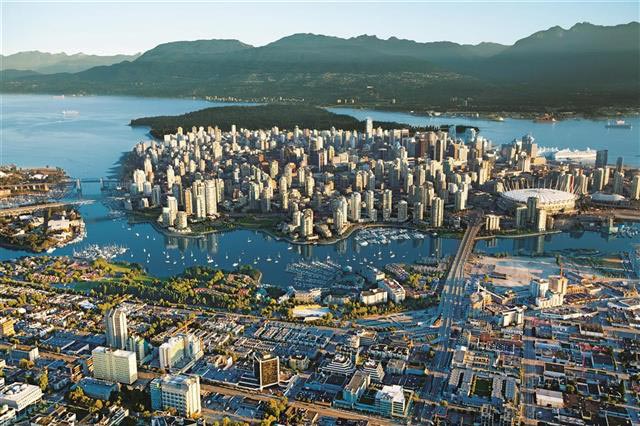 Vancouver Sightseeing Tours – Vancouver is a truly unique city with a wealth of attractions to experience.  Vancouver is bordered by the ocean on the west, a river to the south and majestic mountains to the north.  In what other city in the world can you go skiing, sailing and golfing all on the same day?  With so much to offer, there's something to see and do for every sightseer.  There's no better way to experience the sites and sounds in the city of Vancouver BC than in the comfort, style and service of a limousine.
Get a taste of the many attractions in Vancouver with the video below:
Custom tours of Vancouver to your liking
The drivers and staff at KJ Limousine have lived in Vancouver for decades and are well experienced to help you plan a special sightseeing tour of the city with attractions that match your interests.  Simply let us know what you're after and we'll take you to the locations you'll enjoy the most, whether they're Vancouver's most popular tourist destinations, or some of Vancouver's best kept secrets.  We can either give you a grand city tour, or take you to specific destinations. We'll help plan then drive your choice of route while you concern yourself with taking photographs and soaking up the views. Be let off at the door of your destinations and let us find the parking.
Sightseeing stress-free
Sightseeing is best when you don't have to worry about watching traffic or finding suitable parking. Tour the city in style while we take care of getting you where you want to go.  We'll plan the best route to take to maximize your time while you concentrate on enjoying yourself, snapping photos and soaking up the views.
In no particular order, here are 10 of the top sightseeing attractions in Vancouver BC:
1.  Stanley Park
It's one of largest and most impressive urban parks in the world, right in the heart of Vancouver.  You'll see panoramic views of the mountains and ocean, and the famous Lions Gate Bridge, which connects downtown Vancouver to North Vancouver.  Nestled inside of the park, you'll find the Vancouver Aquarium, which is home to various species of sea creatures, including dolphins, sharks, octopi and whales.  Stanley Park gets its name from Lord Stanley of Preston, a Governor General of Canada—the same man which the NHL's Stanley Cup was named after.
2. Gastown
With cobble streets and charming Victorian buildings, Gastown is yet another great place for shopping, eating or just hanging out. Gastown is an upbeat historical village that is home to many art galleries and film schools. For tourists looking for the nightlife scene, Gastown is your place to be. Gastown is where the city began in its early years, receiving its name from the British Sea Captain, "Gassy" Jack Deighton, who opened the area's first saloon back in 1867. Looking for souvenirs? You'll find a lot of selection here.
3. Hotel Vancouver
Popular among celebrities who visit Vancouver, it's one of British Columbia's most famous landmarks. This 17 storey multimillion dollar building is hard to miss as you enter the city. At 111m tall, you can spot it from just about anywhere in the city.
4. Robson Street
Many consider Robson Street to be a shopper's Mecca. You'll find a wide range of world-class designer shops and local boutiques here. Before or after shopping, there is a plethora of fine food choices here as well, from international flavours to fresh local seafood.
5. Chinatown
With a rich history and authentic ambiance, Vancouver's Chinatown is one of the largest of its kind in North America. One of the main attractions here is the famous Dr. Sun Yat Sen Chinese classical gardens and park. It's the first full scale Chinese garden to be built outside of China. Entrance to the park is free, but you'll need to pay a small fee to enter the main gardens.
6. Granville Island
Once a rundown industrial area inhabited by sawmills and factories, this small peninsula located in False Creek opposite downtown Vancouver is now unique bustling community with specialty shops, galleries, a water park, breweries, and even a large public market where you can find a wealth of local produce and handmade arts & crafts.
7. Canada Place
Stroll around the promenade and enjoy some Canadian music or other entertainment all year round. You'll find a wide selection of shops and attractions, such as the Vancouver's newest attraction, FlyOver Canada. Canada Place is also one of the city's main cruise ship terminals.
8. Harbour Centre
Take a glass elevator up over 450 feet and tour one of Vancouver's tallest buildings, enjoying some of the best views of the city in its revolving restaurant and observation deck. Built in 1977, Harbour Centre is one of the most recognizable buildings in Vancouver's skyline.
9. Vanier Park
Here, you'll find three of Vancouver's major museums within walking distance: the H.R. MacMillan Space Centre (with a state-of-the-art planetarium), the Vancouver Museum, and the Maritime Museum. At the park itself, you can enjoy excellent views of English Bay, False Creek and downtown Vancouver.
10. Capilano Suspension Bridge
No trip to Vancouver is complete without a visit to the Capilano Suspension Bridge. This attraction draws about one million visitors every year and was originally built in 1889, making it one of the oldest attractions in Vancouver. The bridge spans 450 feet across and is suspended 230 feet in the air. At the nearby hatchery, you can see local salmon and if you time your visit just right, you might see the salmon swimming upstream to lay their eggs.